WELCOME TO FERRARA 2017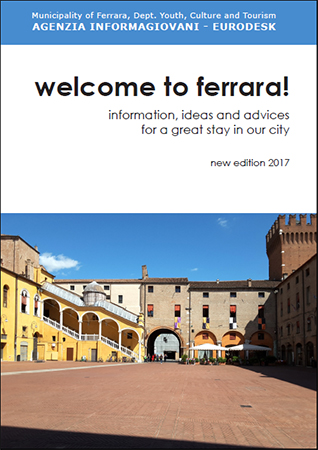 Dear incoming students,
We hope you will feel good here: our town is a small but welcoming one, with many interesting things to see and to do.
In this booklet you will find many (we hope at least the most important!) useful information to make your staying more comfortable and profitable.
We kindly ask you to contact us if you don't find something you are looking for, or if you would like to add something that you think could be useful for other students to know (we would appreciate it!)
What are you waiting for? download the guide and ... enjoy!
We wish you the best time in our town!
WELCOME TO FERRARA!
information, ideas and advices for a great stay in our city
new edition, renewed and updgraded by
Rita Vita Finzi
Youth Information Agency
Ferrara, 26 may 2017
contents:
- Ferrara University incoming mobility
- accomodations
- health
- getting around
- local press, portals, radio and tv
- leisure time
- sport
- discount cards
- markets
- main events
- wife & wifi
- public libraries
- Youth Information Agency
- useful addresses